Migration
FICHE COMPLÈTE
Réalisation : Syd Horn et Olivia Perillo
Escale : Lafayette 2018
Catégorie : Documentaire
Thèmes : Culture, genre, habitat, identité, nature
Année : 2018
Durée : 4'45
Langue : Anglais, sous-titres français
SYNOPSIS
Trois femmes de cultures différentes parlent de leur identité dans leurs environnements respectifs.
3 women from different cultures talk about their identity in their respective environment.
ÉQUIPE
Participation : Michelle Colón, Pauline Neto et Florette Orleans
Direction photo : Delphine Ménoret
Montage : Olivia Perillo
Musique originale : Dylan Babineaux, Amanda Sphar et Joseph Perillo
Ingénierie sonore : Mathieu Grégoire et Dylan Babineaux
Grip : Samuel Ab
Sous-titres français : Lucie Crisa, Heaven Moore et Jimmy Pettigrew
BIOGRAPHIE DES RÉALISATRICES
Syd Horn et Olivia Perillo
Syd Horn is a dilettante creator, at large. Though she is consistently told being a jack of all trades and a master of none is nothing but foolishness, still she stands. She is most fond of investigating and capturing those she stumbles upon who've stories of both raw humility and unabashed authenticity. This intention directed her toward writing her first short documentary, Migration, last winter. She looks forward to preserving the tales and imagery of many others in her ever-growing observation bank.
Olivia Perillo is a visual artist, photographer, and filmmaker. She is inspired by the natural world and documents her observations with a mindful perspective, as well as she captures the culture between her hometown region of South Louisiana and the American Southwest. She uses her photographs of plants and landscapes with significant found images from her travels in her collage work which she approaches with intention although at times experimental. In 2016, she founded Indigo Light Studio, a creative retail brand where she sells archival prints of her work alongside one of a kind handcrafted necklaces. Most recently, in 2018, she is stepping into the world of film as director, director of photography, editor, and producer with a short film co-directorial debut, Migration.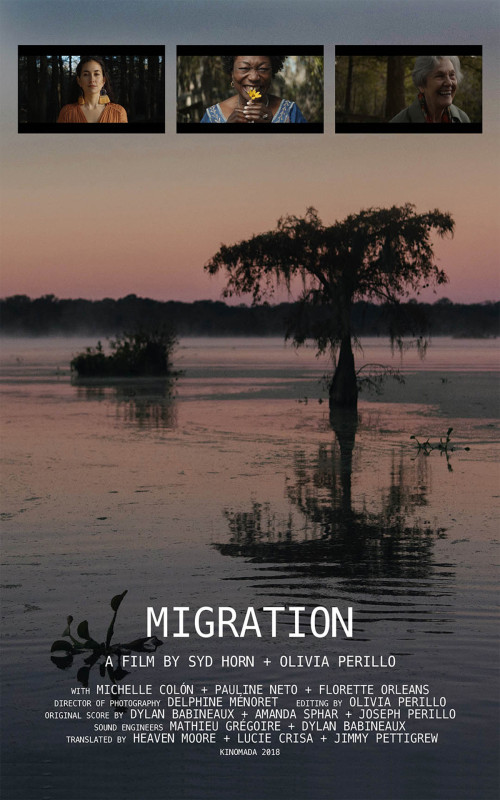 2 sélections en festival!
WOW Film Festival Tunisia - 2020
Tunis, Tunisie
Dance On Screen Festival - 2019
Graz, Autriche
Acadian Cultural Center - 2019
Lafayette, États-Unis (Louisiane)